We are looking for new skaters! We encourage anyone who wants to give roller derby a try to come along to our New Skater Training, every Monday, 7:30pm – 9:30pm. The sessions are open to anyone over the age of 18, men and women, and we can provide skates and safety equipment.
*Bring a Friend for Free for the whole of January 2015* If you find the idea of trying something new a little bit daunting on your own, bring a friend with you and they get in free! (Or you can split the cost between you, if you're feeling nice). We're sure you'll both be hooked pretty soon! Please note that this offer can only be used once during January.
The session costs £6 and will teach you all the skills required to skate, stop and fall safely, and allow you to learn and practise the skills required to play the game.
Upon reaching a good level of competency, you will be asked to sign up to our league and be eligible to join weekly team training on Wednesdays in addition to the Monday sessions, while you take your WFTDA minimum skills assessment. Male skaters with an interest in playing the game will be offered the option of joining our brother league, the Knights of Oldham.
Practice Times: Every Monday night 7.30pm – 9.30pm at The Thunderdome. The training session will start bang on 7:30pm, so please arrive at 7:00pm to get kitted up!
If you're not already convinced to come and give it a go, read Lauren Disorder's account of her experience following our New Skater Programme: Braving That First New Skater Session!
For some advice on what to wear, check out advice from Morgue-Anna: Dress Derby!
Attend New Skater Training on Facebook or join our New Skater Facebook Group to chat to other RCRG new skaters!
Been to one of our New Skater Sessions? Please click here to send us your feedback!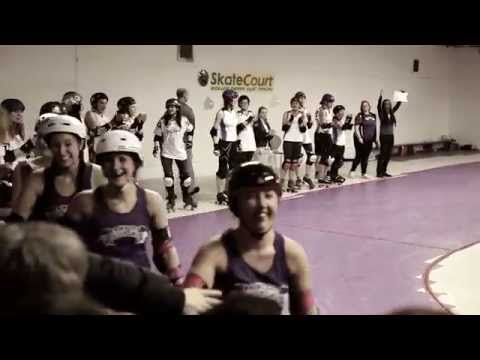 Referees and Non-Skating Officials
Fancy a more official role in the game? We need more referees to grow our WFTDA-affiliated referee crew, headed by Level 2 WFTDA-certified referee Matt the Knife. Our referees officiate over bouts and scrimmages for all our teams, and are present at all training sessions to assist with clean, safe play, as well as to educate our skaters to the highest standard of rules knowledge.
If you have a keen eye for detail and a desire to learn, email refs@rcrg.co.uk to sign up. If you want to become a ref, but can't skate yet, we will teach you at the Monday night sessions until you reach the minimum required for reffing standards, from where you can move on to dedicated referee training with Matt and the team.
Each bout also needs a skilled workforce of non-skating officials to track the scores, time the jams, and manage the penalties.
We encourage all skaters to not only volunteer for Non-Skating Offical (NSO) duties, but also to commit to fully understanding the requirements of the role, and pursuing NSO accreditation. Our head NSO – Minx Subordination – shares her extensive experience with all of our NSOs, training them to meet her exacting standards, and works to ensure that the experience feeds back into their skating with a greater understanding of the rules and procedures.
If you only want to NSO and have no interest in skating, then we'd be delighted to welcome you into the Thunderdome family, train you up, and reap the benefit of your dedicated support. Please email nsos@rcrg.co.uk to sign up.